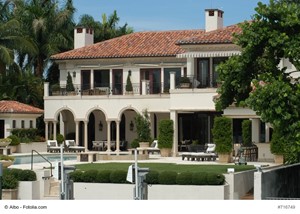 Want to own a luxury house in or around Disney World, South Beach or other globally recognized attractions or landmarks? Pursue a luxury residence in Florida, and you can discover a deluxe home that is sure to serve you well for years to come.
Ultimately, there are many reasons to buy a luxury house in the Sunshine State, and these include:
1. You can enjoy beautiful weather year-round.
On average, the temperatures in Florida range between 60°F and 80°F throughout the year. Thus, if you purchase a luxury house in the Sunshine State, you'll never have to worry about extreme cold or snow.
Let's not forget about the superb amenities that Florida luxury homes offer, either. For instance, many Sunshine State luxury houses feature first-rate air conditioning systems and swimming pools. Therefore, you should be able to find a Florida luxury residence that makes it easy to stay cool in hot temperatures year-round.
2. You can celebrate an unbelievable combination of history and excitement.
For those who appreciate history, there is no shortage of museums located near many Florida luxury houses. If you want to learn about the history of the Sunshine State, for example, you can always plan a trip to the Museum of Florida History in Tallahassee. Or, if you want to enjoy the largest natural history museum on Florida's Gulf Coast, a visit to the South Florida Museum in Bradenton is a must.
Comparatively, Florida boasts dozens of awe-inspiring attractions, many of which are located just minutes from luxury houses. From SeaWorld in Orlando to Legoland in Winter Haven, there are lots of fun, exciting Florida attractions that you can enjoy at your convenience.
3. You can own a top-notch luxury house that may increase in value over time.
The luxury houses in Florida are unlike others across the United State. And regardless of whether you buy a luxury home in Tampa Bay, Fort Lauderdale or elsewhere in the Sunshine State, you can reap the benefits of a superior residence.
Oftentimes, it can be easy to maintain a Florida luxury home's quality for an extended period of time. In fact, if you allocate the necessary time and resources to keep your Sunshine State luxury home looking great, you should have no trouble maintaining or increasing your residence's value.
When it comes to pursuing a luxury residence, it may be beneficial to check out the deluxe houses available in Florida. If you collaborate with a Florida real estate agent, you can speed up the process of discovering a Sunshine State luxury residence that matches or exceeds your expectations.
A Florida real estate agent is happy to teach you about the local luxury housing market. By doing so, this housing market professional can make it simple for you to purchase an outstanding Sunshine State luxury house.
Reach out to a Florida real estate agent today – you'll be glad you did. With a real estate agent at your side, you can quickly and effortlessly pursue a luxury house in the Sunshine State.